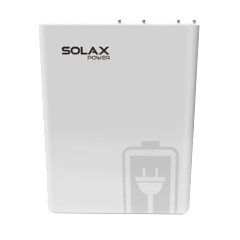 The benefits of storing energy
Battery energy storage for people WITH a solar PV installation
People with a solar PV installation can maximise your free electricity by storing more solar PV generated electricity in a battery before returning any electricity to the grid. This ensures that you have a backup of electricity to use during the evenings, power during power cuts or if you haven't generated as much due to poor weather conditions.
Battery energy storage for people WITHOUT solar PV
Anybody can benefit from battery energy storage. Having a battery allows charging during the night while your supplier's electricity is at its cheapest rate per kW, so you can use this electricity throughout the day when the price of a kW is at its most costly. The average home consumes around 10kW a day, a battery with a capacity of 12kW can provide enough energy to run the average home for the day.
SolaX Battery - Next Generation Energy Storage
'Plug & Play' Installation

Small, Compact Design

Very Lightweight

Online system monitoring
SolaX Power is delighted to announce the imminent launch of their new 48V battery solutions. Designed and manufactured in partnership with LG Chem, SolaX will be offering 3.3 & 6.5kWh options, boasting a 6000 cycle lifespan with a 10 year (3000 cycle) warranty and 95% depth of discharge. The new SolaX Battery is a high-performance domestic energy storage battery solution.

Pylon Technologies - Energy Storage
Pylontech's products and solutions have been widely deployed in power backup, telecom power backup, new energy storage systems and electric vehicles.
Pylon Technologies have developed a state of the art energy storage solution utilising cutting edge.
Lithium Iron Phosphate technology and have packaged the technology into a rack mount module for ultimate flexibility and ease of installation. Rated as the best value for money battery on the market and has proved very popular with customers.
Segen Solar offers the US2000B Pylon Plus range, in 2.4KW modules as well as the necessary mounting brackets and cabinets.